Can you see yourself living in a tiny home?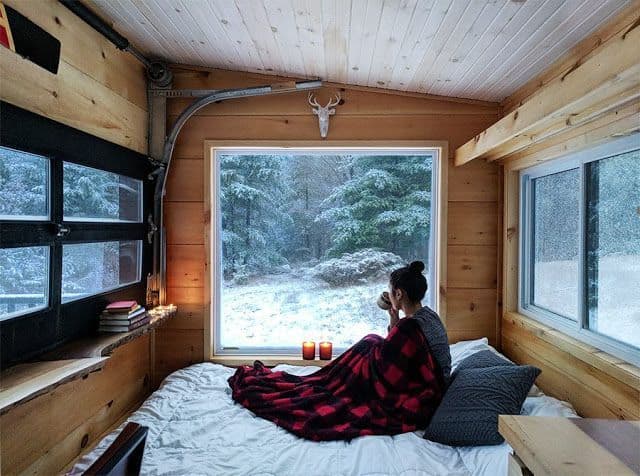 Tiny Homes
Freedom. Mobility. Unique dwellings. What's not to like about tiny homes? Just like with anything in life, there are pros and cons. Thinking of downsizing? Want to live off the grid? Have the urge to explore? Tiny homes are definitely on people's minds–home buyers of all ages are considering this option.
What is a Tiny Home and what does it consist of?
Generally speaking, tiny homes measure between 80-400 square feet. How big is that, you wonder. Well, not very. Imagine a small studio in San Francisco–now, cut that in half. A lot of tiny homes can be built on wheels, however, some places may require you to set it in foundation. A tiny home usually has a loft — accessible by a set of narrow stairs or a ladder to climb up (typically the bedroom). The bathroom usually consists of a composting toilet, which does not use any water. Due to the nature of the size, every square inch needs to be designed and used creatively and effectively to maximize real estate. The dining table may be folded up/down or it may just be a bar (can be doubled as a desk) to save space, the kitchen appliances are usually not full-sized, and storage spaces are recessed/hidden. Take a look at these tiny homes for inspiration. 
How much does it cost?
What's the price tag on such tiny homes? You guessed it, tiny! Depending on which state you live in, the price to build a tiny home can fluctuate. In California, it can range from a low of $40,000 to a high of over $100,000. The cost also depends on additions, upgrades, materials, etc. Is it important for you to have an entertainment space? Do you want to splurge on a porch, balcony, or deck? How about an extended outdoor living space? After all, you get what you pay for. Watch out for costs that you may have missed. See if you can save on shipping fees or find vendors who can complete the job for less. Look into the property taxes in your state and if there are any fees associated with your plot. What about your belongings? Since you will likely be downsizing, you will need to rent a storage unit to store your large-piece furniture and such. How much will that cost per month? Create a budget and spreadsheet so that you can view an itemized list of expenses.
Here are the Pros…
If you are an outdoor enthusiast, avid traveler, road tripper, or hiker, perks include the freedom of mobility and the ability to live more sustainably. If you fall under this category, owning a tiny home on wheels may be a dream come true for you. For some, being off the grid with no wifi connection allows for tranquility, peace, and quiet. Many will enjoy spending time in nature and away from the hustle and bustle of metropolitan life. Many live by the motto, "Let's wander where the wifi is weak." This is definitely a lifestyle preference and choice.
What are the cons?
Of course, not everyone is up for the challenge of living in a tiny space, far away from civilization, and disconnected from the world. If you enjoy a fast-paced environment surrounded by noise/people/events, living tiny is definitely not for you. Some may find it bothersome to maintain. After all, who is an expert on compostable toilets? The whole tiny house movement may be completely foreign to some.
Is it for you?
Whether you are thinking of owning / financing a tiny home, downsizing, or want to travel on wheels for a year, we encourage you to do as much research as you could. If you decide to go tiny, what is your style–farmhouse, craftsman, bungalow? The options are endless. Perhaps you can stay in a tiny home, tree house, or yurt (or any type of small, unconventional living accommodation) for an extended trip and see how sustainable it is for you and your lifestyle.